Saturday 16 Oct 13 was a memorable day at Owen Field and not all of it was about football.
Here is a list of what happened:
*It was Senior Day for the players
*A returning soldier was honored
*A Fox camera man was injured and carted off the field
*A State Trooper trucked an unruly fan that ran onto the field
*The starting QB was injured and replaced with the QB he had replaced due to injury early in the season.
*Coach Stoops tied the legend Barry Switzer for most wins in his OU career.
*OU racked up the most rushing yards in a game in the Stoops' era.
The soldier, First Sergeant Brian Curtis of the Oklahoma National Guard(a 23 year veteran), that was honored at the end of the first quarter was without a doubt the highlight of the day. His family didn't know he would be there and he arrived on the field with the fantastic honor of riding the Sooner Schooner.
The full video could not be embedded, so click this link for the video.
After the game the First Sergeant and his family were invited to the Sooner's locker room, where the soldier was given the first game ball after the victory.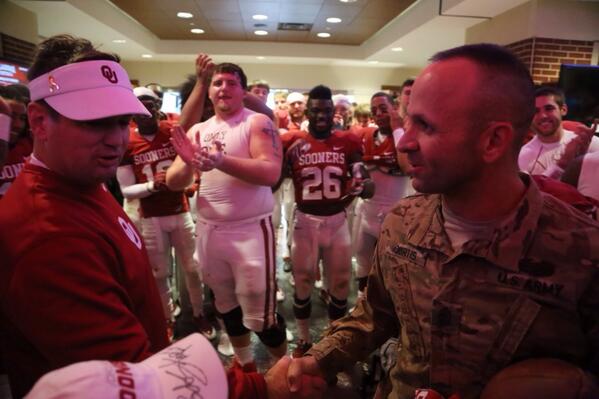 The camera man that was injured? What a character, even with broken ribs he showed an incredible spirit by making the OU sign and waving to the crowd.
The State Trooper that clocked the unruly fan is Coach Stoops personal body guard and is a 6'2″ 240lb. former linebacker at the University of Central Oklahoma and admitted "gym rat."

As for the game itself, it was really dull until about 90 seconds before half time, with ISU leading 10-3. From that point on OU scored 45 unanswered points giving the hapless Cyclones their ninth loss of the season.
The victory did, however, tie Coach Stoops with Barry Switzer at 157 wins. One more victory will make him the all-time leader in OU coaching history, a coaching history unlike any other in NCAA football. OU football is the only program with four coaches that have over 100 victories. Coach Stoops has accomplished this record in his fifteenth season, while Switzer did so in sixteen, but they play more games each season now than they did during Switzer's years, thus a much higher winning percentage than Stoops.
As for the QB situation, OU is right where it was at the start of the season, unsettled at QB. The offense has shown, at times, what it is capable of, but has been entirely too inconsistent, thus the two losses to teams they could have beaten.
How the season will end is anyone's guess, with two tough games left on the schedule, both on the road at K-St. and OS-Ewe, then the obligatory bowl game. While the season has been a disappointment, there have been many memorable days and plays, as evidenced by events this past Saturday.
Filed under: n2l | Tagged: college football, football, n2l | 2 Comments »