His proper name is Michael Hunnicutt, but the former walk-on kicker and now R-Sr. is the all-time scoring leader for OU, surpassing Demarco Murray's career points total of 390 points with the kick in the above photo. Moneycutt now has 392 points for his career, with at least nine more games to be played.
While most football fans would prefer their kicker only appear for the point after, too often a games outcome is determined by this seldom used player. Each weekend there are games decided by the failure or success of team's field goal kickers.
Moneycutt became the OU starting kicker his R-Fr year after the third game of the season at Florida St. when OU was ranked #1. This kick is what propelled Moneycutt into the kicker's job and he has been excellent since.
Since that kick Moneycutt has been the man, averaging 85.8% field goals made in that time. His stat sheet can be found here.
For us Sooner fans we will be pulling for him to break the FBS record for most points by a kicker(FBS: 459 – Dustin Hopkins, Florida State, 2009–12) and/or most points in a career(FBS: 500 – Montee Ball, Wisconsin, 2009–12). Based on his totals for the past three years I think he has a real shot at breaking the kicker's record.
In any event, Moneycutt is non-plussed about all of this, he alread has his B.A. and is working on his masters in Administrative Leadership.
He is a proud life-long Sooner and now a Sooner all-time Great.
He also has a great sense of humor.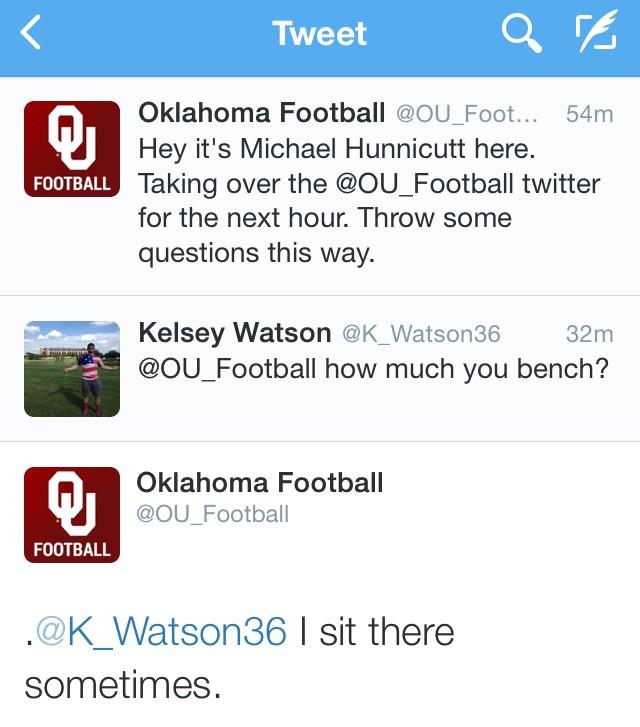 Filed under: College Football, n2l | Tagged: college football, n2l | 16 Comments »